The Great ScrumMaster
---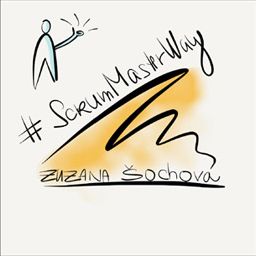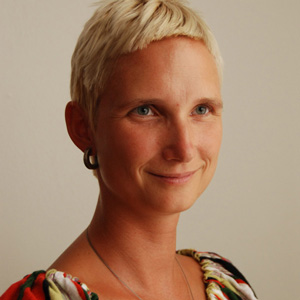 Title: The Great ScrumMaster: #ScrumMasterWay
Author: Zuzana Šochová
Series: Addison-Wesley Signature Series (Cohn)
Paperback: 176 pages
Publisher: Addison-Wesley Professional; 1 edition (January 9, 2017)
Language: English
ISBN-10: 013465711X
ISBN-13: 978-0134657110
Purchase now [original English version]
Book about Excellence with Scrum by Zuzana 'Zuzi' Šochová
The Great ScrumMaster: #ScrumMasterWay shows you how to become a Great ScrumMaster. Written by leading Agile and Scrum expert Zuzana Šochová, "Zuzi" summarizes in this book her 15+ years experience with Agile and Scrum and introduces her unique concept #ScrumMasterWay.
[Book is available as well in Russian, Simplified Chinese, Traditional Chinese, and Czech language]
Learn how to build more effective teams, manage change in Agile environments, and take fulladvantage of the immensely powerful ScrumMaster toolbox. Each concept is practical with proven examples that show how to move from idea to successful execution.
Understand the ScrumMaster's key role in creating high-performance self-organizing teams
Master all components of the ScrumMaster State of Mind: teaching/mentoring, removing impediments, facilitation, and coaching
Operate effectively as a ScrumMaster at all levels: team, relationships, and the entire system
Sharpen key ScrumMaster cognitive strategies and core competencies
Build great teams, and improve teams that are currently dysfunctional
Drive deeper change in a safer environment with better support for those affected
Make the most of Shu Ha Ri, System Rule, Root Cause Analysis, Impact Mapping, and other ScrumMaster tools
Whether you're a long-time Certified ScrumMaster (CSM) or participating in your first Scrum project, this guide will help you leverage world-class insight in all you do and get the outstanding results you're looking for.
---
From the foreword...
"The book covers a lot. You'll find thumbnail sketches of many valuable approaches as well as useful examples based on hard-earned real experience. This makes this a good reference for techniques after you have been through the book."
— Linda Rising, co-author of 'Fearless Change' and 'More Fearless Change' (read full foreword)
Readers praise
"The Great ScrumMaster: #ScrumMasterWay fills an important gap in providing practical advice and tools for ScrumMasters who wish to improve their craft. The book is full of powerful tips sure to help any ScrumMaster."
— Mike Cohn, author of 'Succeeding with Agile', Certified Scrum Trainer®


"The key for any educational guide is accessibility and leaving the reader with actionable techniques they can immediately put into practice. Zuzi's The Great ScrumMaster: #ScrumMasterWay is both and is a fantastic reference for those wanting to improve their Scrum Master skills."
— Mark C. Layton, author of 'Agile Project Management For Dummies' and 'Scrum For Dummies', Certified Scrum Trainer®


"There is a short and a long answer, to why I believe "The Great ScrumMaster" is a great book. Let me start with the short one: It provides great answers to a lot of questions my students ask me in Certified ScrumMaster trainings and is an excellent source for reflection once they start their journey as ScrumMasters. Now to the long answer: The ScrumMaster role is covered very briefly in the ScrumGuide... beyond his responsibility to coach the Development Team, the Product Owner, and the organization it does not say much – especially about how these things can/should be done. Many books have tried to fill this hole – two of them I like a lot, one is "The Great ScrumMaster". Zuzi not only covers tons of topics directly linked to the ScrumMaster role, but goes beyond that e.g. by including a chapter on the Responsibility Process or Impact Mapping. In each chapter she communicates very clearly and to the point and helps the reader to by using incredible visuals – which are an inspiration by themselves. In addition I like the "Remember" and "Steps towards the next stage" sections at the end of each topic... As a reader it helps me to reflect on the key message or identify an action item for myself. All in all a great book, which I can highly recommend to everyone who is on the journey to become a great ScrumMaster. Only downside... it's not available in German, but Zuzi and I will work on this ;-)"
— Sohrab Salimi, Certified Scrum Trainer®


"Zuzi's preface describes briefly her journey to become a great Scrum Master. Hers is a story about humility and studious peristence; the journey is unique and difficult for us all. I could relate!."
— David Sabine, Agile Business Consultant, Berteig (read full review)


"Recommended book."
Ben Linders, co-author of 'Getting Value out of Agile Retrospectives – A Toolbox of Retrospective Exercises'


"Even if you're not a ScrumMaster yourself, you can still benefit by reading this book. Regardless of our role, we all need leadership skills, and we all need to build good relationships within and outside of our software delivery teams. The techniques and models in this book will help you contribute more to your team, and help your team add more value to your company."
— Lisa Crispin, co-author of 'More Agile Testing: Learning Journeys for the Whole Team' and 'Agile Testing: A Practical Guide for Testers and Agile Teams'
(Deep book review by Lisa Crispin was published at AgileVox magazine, Issue 2, Fall 2016.)


"The Great Scrum Mater is an essential book for anyone in a Scrum Master role, being it a novice seeking advice or a seasoned pro just wanting to get a new way of looking at things and refresh things a little. Written in plain, easy-to-understand language, with many tips that you can try right away, it is definitely one of a few books any Scrum Master should have as a "pocket reference guide".
— Tomas Kejzlar, Agile Delivery Coach, MSD IT Global Innovation Center


"Zuzi Sochova has written a useful, practical and concise set of tips for Agile professionals. If you want to be a Great Scrum Master, you should read this book."
— Fred Williams, founder of Williams Technical and the Open Learning Center


"I feel lucky that i got a chance to read a wonderful book "The Great ScrumMaster" authored by Zuzi Sochova. I had my own expectations, but I must accept that it exceeds those by a wide margin. I was not contemplating to finish the book in one or two days, but as I started to turn the pages, it acted like a magnet, as the book content is designed in small chunks of read. This book has forced me to think not only about Scrum masters but also for overall scrum framework from different perspective. The contents are so nicely organised that you will learn everything in a flow.The structures and templates allows you to immerse yourself and follow the flow of learning. I'll also commend Zuzi for breaking the traditional way of writing book and make it an attractive read with small themed colourful figures."
— Jaya Shrivastava, founder of Agile++ Engineering


"Zuzana's book - The Great ScrumMaster is a great read! For today's Agile coaches, Scrum Masters and Change Agents to get started in their journey, the book contains real time examples, techniques and tools which will help them get on to the path to bring about change in the world of work. The book covers wide number of topics explaining what a ScrumMaster role entails. It has lots of examples, practices, exercises and colourful illustrations that help the readers to connect with instantly!"
— Apeksha Patel, founder & MD at Chanakyaism, AKT, Agile Coach


"Easy to read, easy to understand :) Good job, Zuzi!"
— Kuba R., reader


"Thank you, Zuzi! I've just read the book and it really was on time for me. It helped me to structure and define my goals at the new company where I have just started working."
— Alienista, reader


InfoQ: Q&A on The Great ScrumMaster
— Interview by Ben Linders


---
Would you like to know how the book looks like? See the short sample of The Self-organized Team chapter.
On more than 150 pages, The Great ScrumMaster book contains practical information and tips for your ScrumMaster journey. To leverage your knowledge join one of the Zuzi Agile/Scrum trainings.
---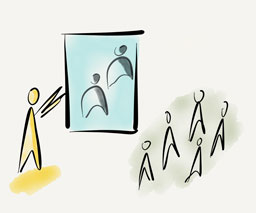 Book details
The Great ScrumMaster - #ScrumMasterWay is a guidebook for all ScrumMasters, Agile coaches and leaders who want to transform their organizations. It's intended to give you a reference to general concepts which every ScrumMaster should understand and point you towards resources which may help you in resolving difficult situations. It was designed as a slim illustrated book, which you can read during the weekend and won't get lost in too much heavy stuff. However, it is supposed to be your starting point in searching for help or ideas on where to go next. On top of that, it's full of practical examples of how to apply each individual concept.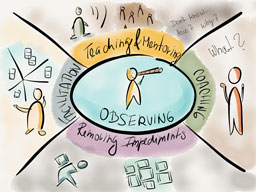 The book is divided into 8 sections which, step-by-step, create awareness and understanding of the great ScrumMaster's role. We go through responsibilities, the State of Mind model, the #ScrumMasterWay concept, metaskills & competences, building a group of ScrumMasters, the theory of building teams, change implementation and the ScrumMaster toolbox. This book provides a wider definition of the ScrumMaster's role than is usually described. It introduces the #ScrumMasterWay concept to define the three levels of operation of a great ScrumMaster.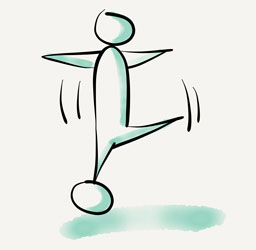 Being ScrumMaster is like playing in an adventure game. You pick up some tools along the way and you don't necessarily understand how to use them right from the beginning. Sometimes you need to be creative and try different approaches, taking some crazy steps. From time to time you might feel desperate and on the brink of quitting. But then you realize there is another way to approach the situation and make it work, like in those adventure games where you need to spot a tiny crack in the wall to open a secret door or apply the usual tools in a very different way.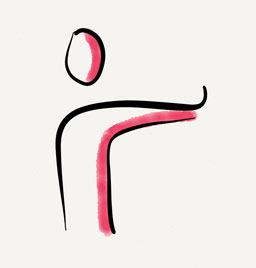 Even if the examples might not fit your exact situation, and the framework described might not feel appropriate during your first try, give it a second or a third chance. Be creative and adapt these examples. Believe that it will work, eventually, and you will become a great ScrumMaster.
---
---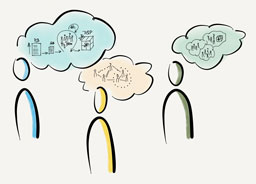 Coaching, Leadership and Training

Zuzi is not only bookwritter she is also world renowned Agile Coach and Trainer.
She is one of the few Certified Scrum Trainers by Scrum Alliance and she delivers certification Scrum classes (CSM and CSPO). It's great opprotunity to attend any of the certification classes and get practical hands-on experiences directly from Zuzi. Check her profile and training dates at Scrum Alliance or her website.
Zuzi is avilable for coaching and mentoring of ScrumMasters and all members of Agile/Scrum teams. It's great opportunity to leverage the knowledge of your team members, ScrumMaster and Product Owner and to achive the excellence level. Contact us for more information how we can help to transform your teams to Agile/Scrum development, and help your Agile/Scrum your teams to succeed with development.
Zuzi delivers her services truly worldwide. Contact us for more details.
---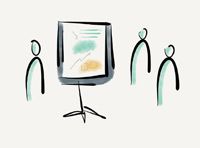 Keynote presentation
The idea of the #ScrumMasterWay concept described in the book was introduced at several international conferences as Keynote presentation. Invite Zuzi to your event and let her talk about her unique concept and the book.
---